TOKYO & LONDON, Jan 19, 2023 – (JCN Newswire via SEAPRWire.com) – JCB International Co., Ltd., the international operations subsidiary of JCB Co., Ltd., today launched a new European-focused brand marketing campaign, dubbed #BetterWithOmotenashi. The eye-catching campaign visuals highlight the company's distinct proposition, Japanese heritage, and its focus on being a valuable service-led brand, dedicated to providing customer excellence. Developed in collaboration with the global B2B marketing and branding specialist agency, Transmission, the new campaign showcases unique themes and striking illustrations. These are tied to JCB's expertise and brand values, and mark the start of a refreshed and transformed brand identity for the payments giant across Europe.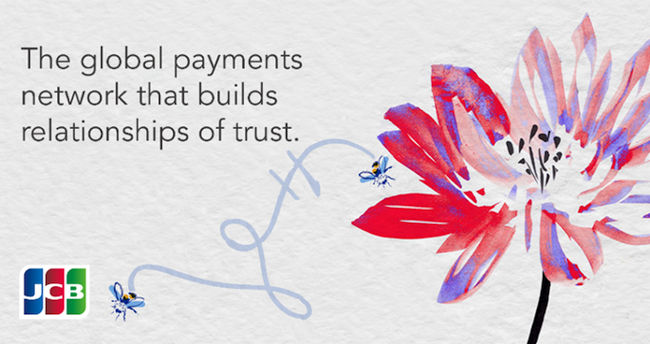 As a prestigious payments brand in Japan and across Asia, JCB is focusing its efforts on increasing international brand awareness amongst its key target audience, including acquirers and merchant partners across the European region. Launching across key regions, including the UK, Germany and France, the campaign emphasises the Japanese principle of omotenashi, JCB's business ethos of placing importance on the highest standards of hospitality, care, support and understanding. Through these principles, which are at the heart of JCB's approach to partnerships, the company hopes to build a refreshing and unique way of doing business in Europe.
An initial brand audit and benchmarking process found that JCB Europe had strong brand equity in the following four areas:
– Asian cardmember insights and specialism
– Bringing a valuable customer base to acquirer and merchant partners
– Collaborative customer-centric partnerships based on trust and reliability
– A strong commitment and dedication to Japanese business principles
Building on these research insights, the #BetterWithOmotenashi campaign positions JCB as a global payments brand, with a valuable cardmember community, combined with the company's intrinsic business focus of its omotenashi principles.
To bring the campaign to life and differentiate it from the photography-led campaigns of other payments brands, JCB and Transmission partnered with renowned British illustrator and artist, Brian Grimwood, to develop bespoke illustrations, invoking the brand's heritage and focus on service through care and understanding.
Following a successful test phase in Q4 2022 across social media and programmatic advertising, JCB is now launching the full rollout of the campaign across online business, financial and payments industry media.
Ray Shinzawa, Managing Director, JCB International (Europe) Ltd., said: "JCB offers a truly distinctive proposition for our partners across Europe to tap into Asian consumer spend and build their business, differentiating ourselves through a 60+ year track record of reliability and expertise, combined with our unique focus on Japanese principle of omotenashi. Through this campaign, we are showing our prospective audience how JCB delivers the highest standards of customer care, support and protection, providing seamless, trusted payment experiences to our partners and Cardmembers alike."
Victoria Perea-Usher, Vice President, Marketing Communications, JCB International (Europe) Ltd., said: "We are increasing our marketing efforts across Europe, and have a razor-sharp mandate on building a more valuable brand for our business partners. This transformational commitment for a refreshed brand identity starts with #BetterWithOmotenashi. We want our audience to internalise JCB's core values and remind themselves that we will continue to build on our mission, one trusted partnership at a time. In fact, our new brand campaign was curated and created with, and for, our business partners across Europe."
To find out more about #BetterWithOmotenashi, click here: https://www.thepaymentshub.net/better-with-omotenashi/
About JCB
JCB is a major global payments brand and a leading credit card issuer and acquirer in Japan. JCB launched its card business in Japan in 1961 and began expanding worldwide in 1981. Its acceptance network includes about 41 million merchants around the world. JCB issues cards across various countries and regions internationally with more than 150 million cardmembers. As part of its international growth strategy, JCB has formed alliances with hundreds of leading banks and financial institutions globally to increase its merchant coverage and cardmember base. As a comprehensive payment solution provider, JCB commits to providing responsive and high-quality service and products to all customers worldwide. For more information, please visit: www.global.jcb/en/
MEDIA CONTACTS:
JCB International (Europe) Ltd.
Diana Lee: Dlee@jcbeurope.eu
JCB (Head Office in Japan)
Ayaka Nakajima: jcb-pr@jcb.co.jp
Copyright 2023 JCN Newswire. All rights reserved. (via SEAPRWire)